Create Effective and Inclusive
Job Descriptions
Ongig transforms your visuals AND text to attract top-tier talent and diversity.
REQUEST DEMO
Are your job descriptions biased?
Are women turned off by the masculine words you use?


Is your text inclusive to people of all races, age and physical ability?


Have you checked your job postings for words/phrases that could get you sued?
Are your job descriptions boring?
Are your job descriptions too long?


Do they use language that sounds like legalese?


Do you use too many bullets?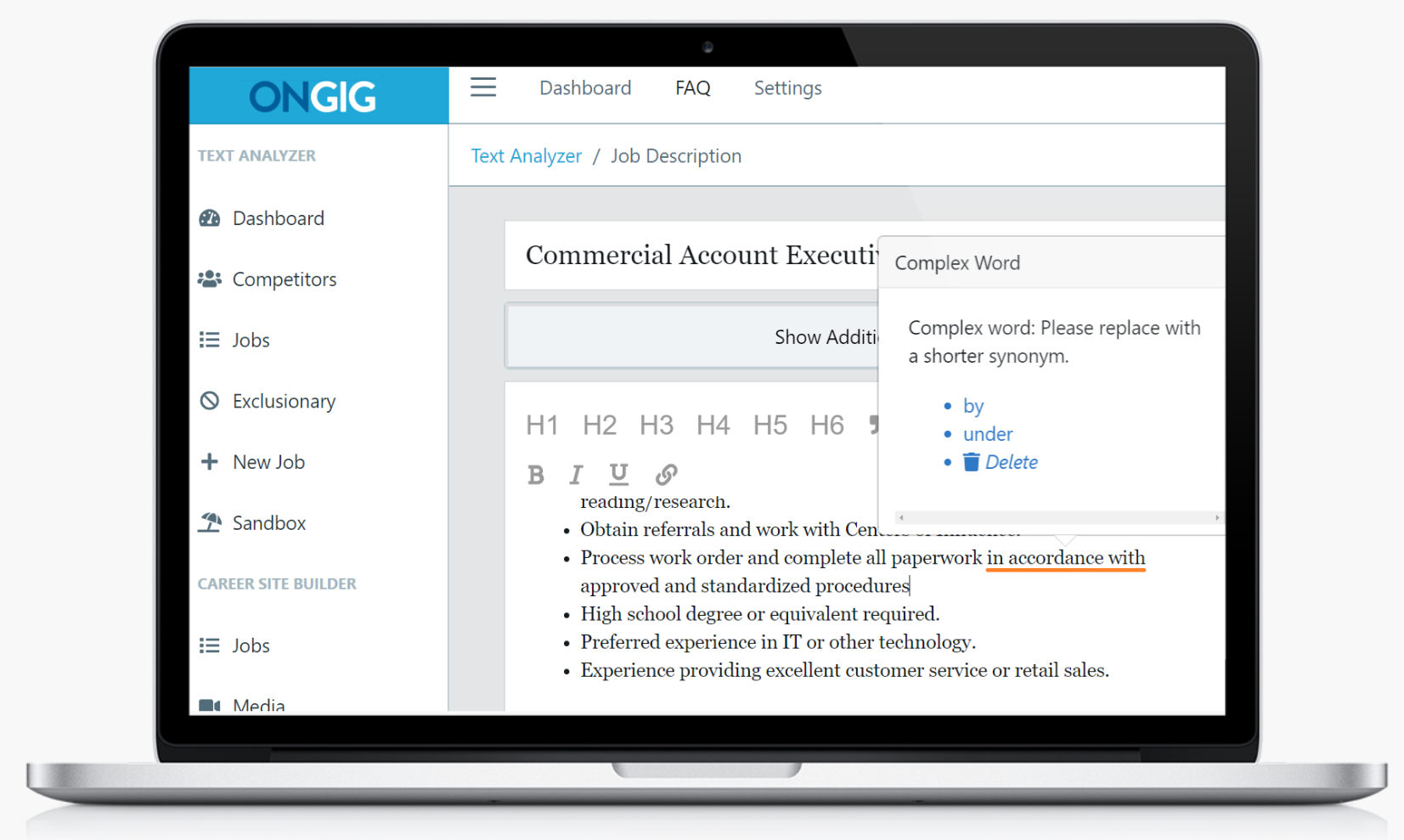 Do you struggle with job descriptions that are inconsistent?
Is your EEO statement on the right jobs in the right countries?


Is your About Us statement consistent on 100% of your postings?


Is your job description template and tone consistent?


Are you able to press a button to instantly change any section?
Can you control what video, image or recruiting widget goes on any job page in real-time?
Add video to any job/career site page


Add pictures to any job page


Add recruiting widgets such as Glassdoor, LinkedIn, Comparably, WalkScore and Chat/Comments to any job page...all in real-time!
Are your career site and job pages fully-optimized for Google A.I., SEO and Mobile?
Can candidates do an A.I.-based search from your career site and easily find a job? Is it as easy as using Google?


Is Google or Bing et al penalizing you for not SEO-optimizing your job pages?


What's the mobile candidate experience of your job descriptions?
Do you know which traffic sources work best (whether internal or external)?
Do you know your top sources of traffic and which converts best?


Do you know the apply rate of every job (and by source)!?


Are you in full control of the ROI on your job traffic partnerships?
6114 La Salle Avenue, #120
Oakland, CA 94611
(415) 857-2304
friends@ongig.com