Eliminate Boring and Biased
Job Descriptions
Ongig's Text Analyzer software gets rid of all bias in your job postings and optimizes your text so that passive candidates engage with you...and apply!
REQUEST DEMO
---
How gender-biased are your job descriptions?
Do you know the "male/female-coded" words and phrases that turn off female and male candidates?
Did you know you can boost applications by 29% by removing male/female-coded words?1
Did you know that men and women apply to your jobs differently based on how you write the sections of your job posting?2
Good news: Removing male/female-coded words lowers your cost per application by 41%3
Do you gender-score all of your job postings before they go live?
Is it possible you're turning away the best talent in the world because your job description text is biased?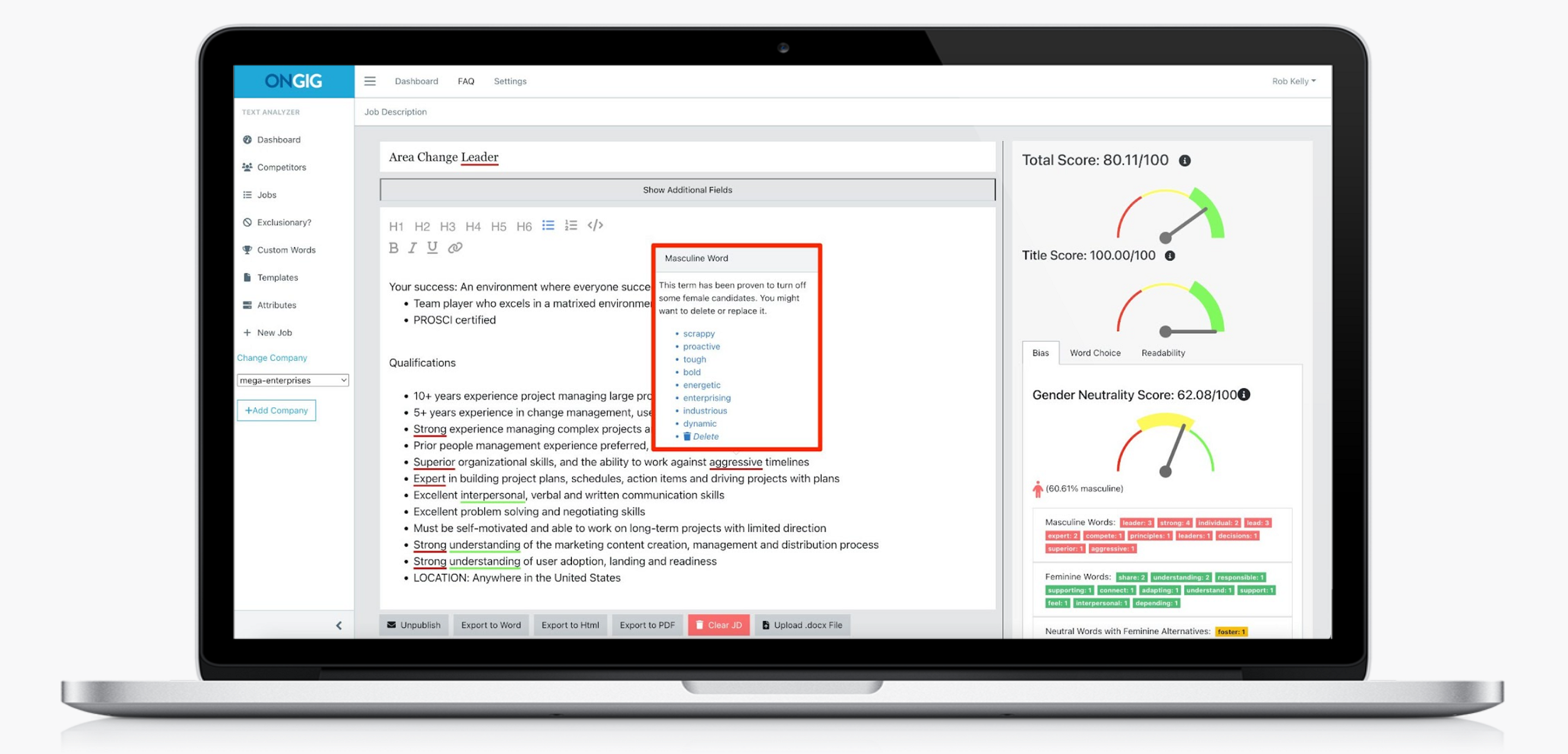 Gender isn't the only bias.
Race & Ethnicity: Are your job ads turning off the BIPOC community?
Many Black candidates exit your job posting if you use ever day phrases (e.g. "brown bag session").
Did you know that women of color value these 3 benefits the most: Flex/Remote work, Financial Benefits and PTO/Vacation Policy. Are they mentioned in your job ads?
To attract candidates of Latin American origin, do you know when to use "Latino" vs. "Hispanic" vs. "Latinx"?
There are hundreds of "no-no" words that may be turning off Asian and Indigenous communities.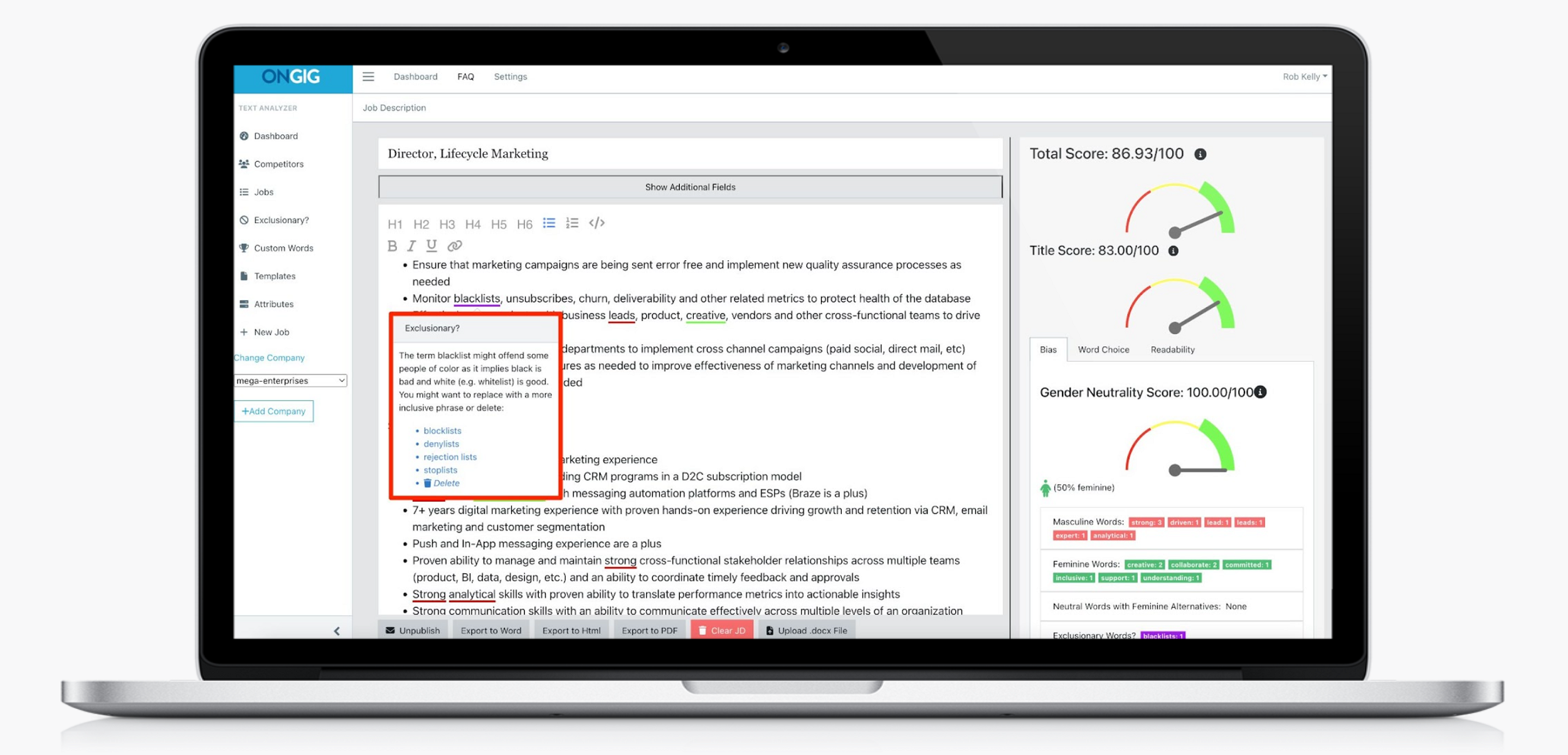 If your job ads are boring, so are you.
Do your job postings sound too "clinical" or "legal-sounding"?
Are your job postings too long? Did you know that apply rates vary substantially based on being too long (or too short)?
Too many bullets? Did you know that candidates tend to stop reading after the 7th bullet?
Did you know that the best ads in the world are written at a 4th to 8th grade reading level? Most job descriptions, on the other hand, are written at a 12th grade reading level.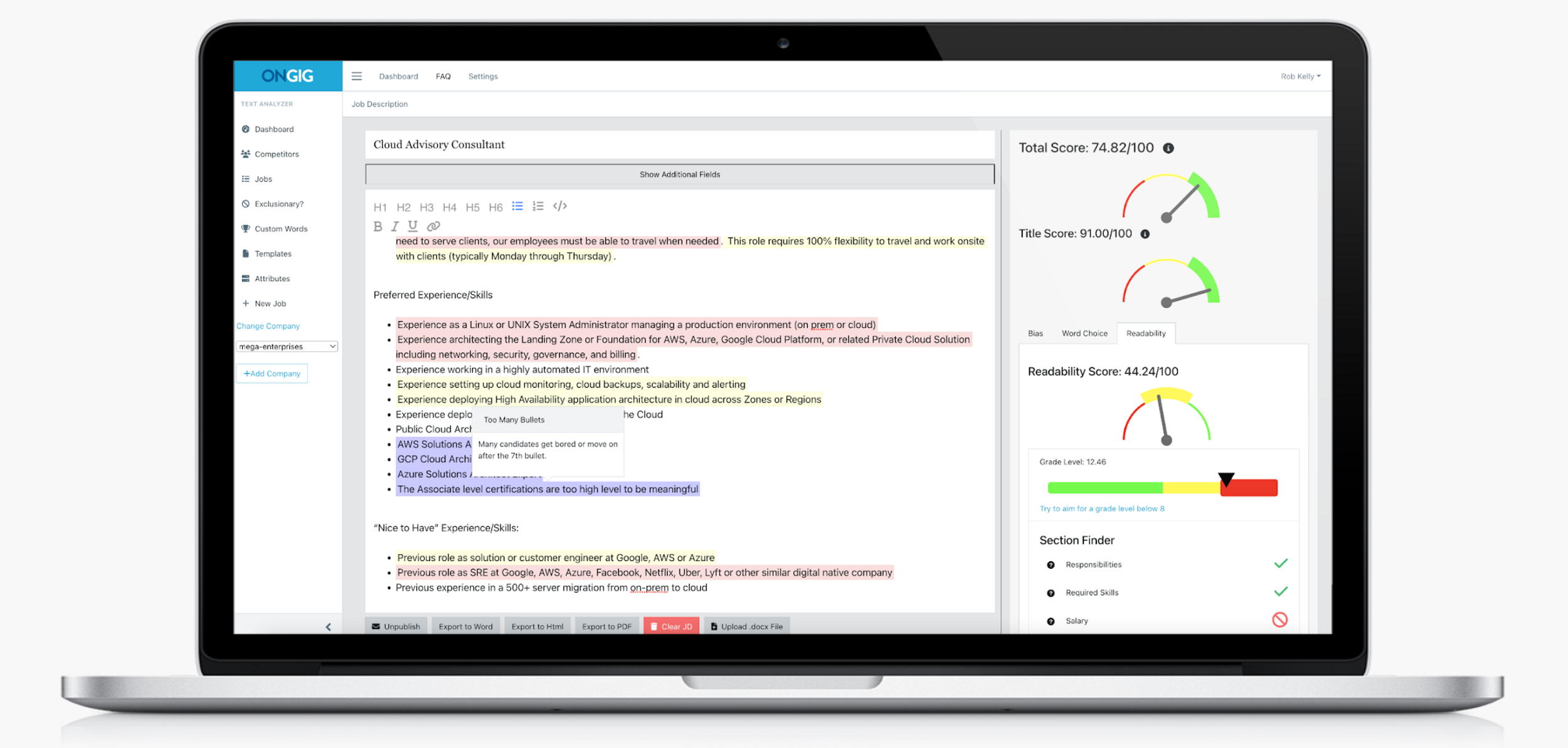 Do your job descriptions use "inside buzzwords" or overly "complex" words
Don't turn off candidates by using "inside jargon" that some of your current employees don't even know the definition of.
Did you know that many words and phrases can be easily trimmed down to make your text more punchy?
Watch out for too many adverbs. Most are unnecessary and using too many makes you sound like that cocktail party guest who drones on and on.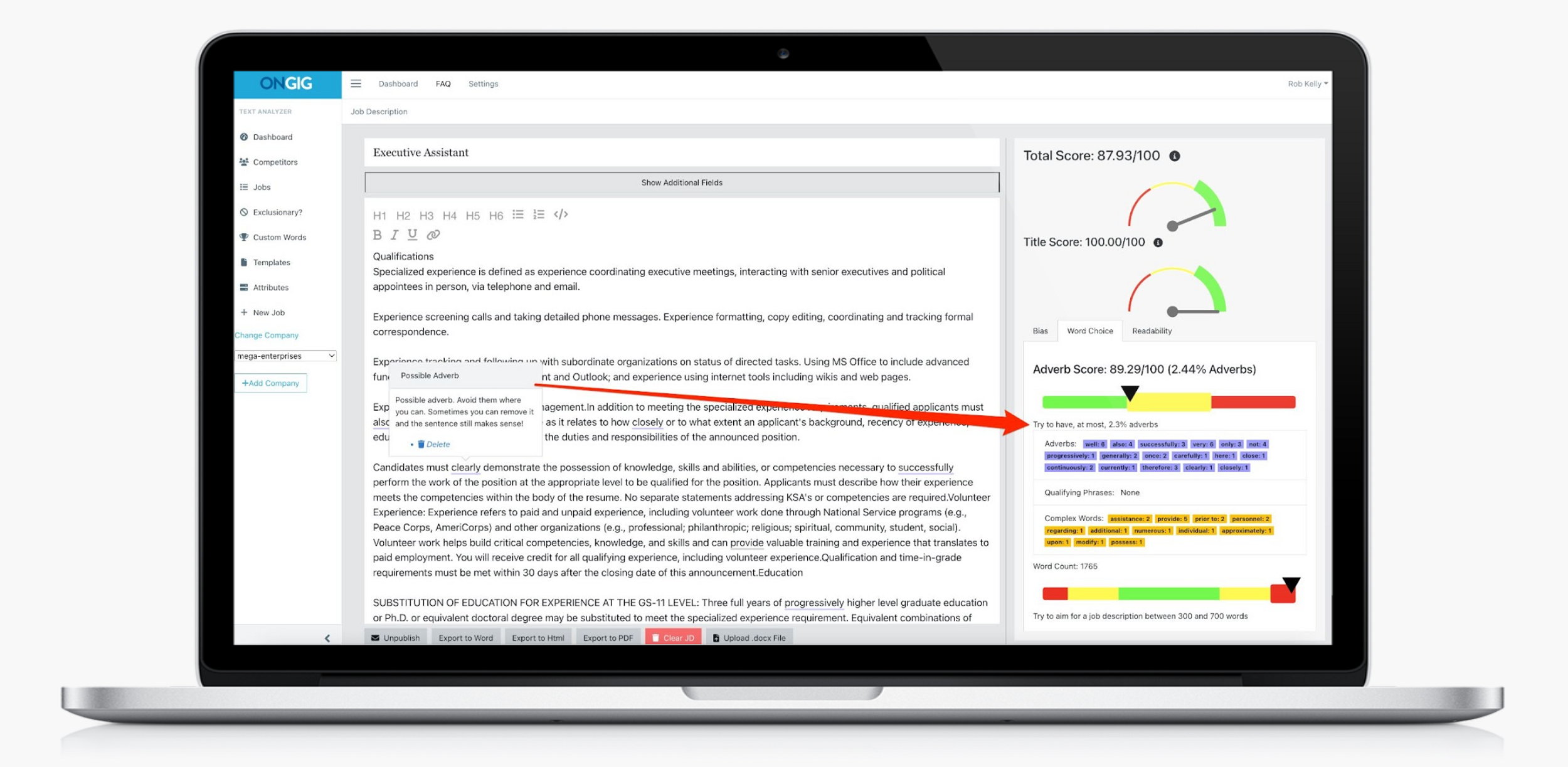 Job Titles & SEO
Did you know that candidates Google-search "Data Analyst" twice as much as "Data Scientist".
Did you know that software developers prefer "Software Developer" over Software Engineer (by 76%!).
"Account Executive" sounds great for sales, but more candidates Google-search "Sales Representative" (non-retail) and "Sales Associate" (retail).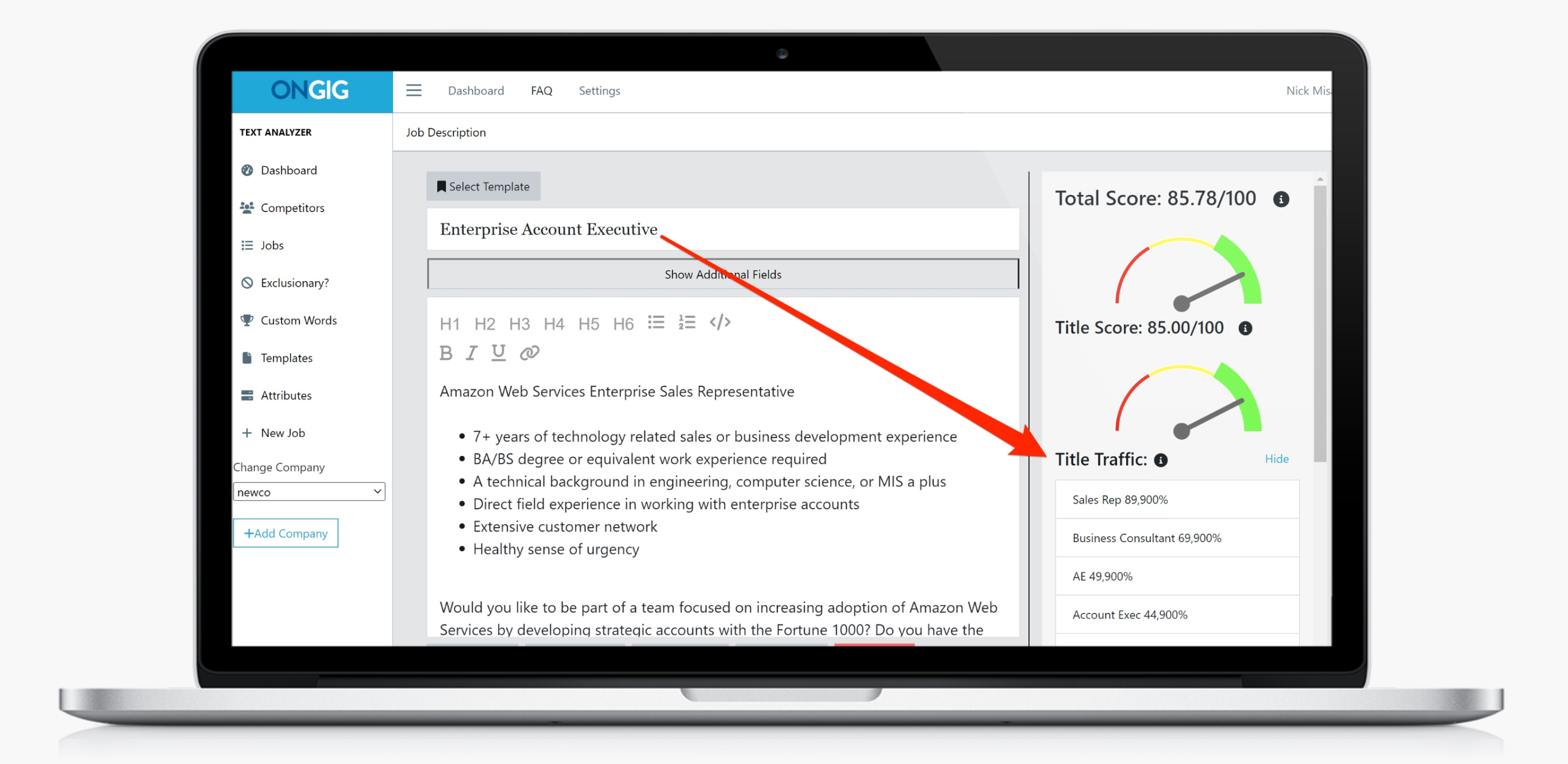 Posting 10,000+ job postings is a lot different than posting 10.
3 Costly Mistakes Enterprises Make When Posting a High Volume of Jobs
Inconsistency -- Most employers lack a uniform set of job description sections when they reach the 100+ job postings level.
Old Verbiage -- If you're company has been around for 10+ years, you likely have old verbiage (e.g. company size or description) in some job ads.
Inside Jargon -- Large companies tend to use "inside jargon" that many internal employees understand (but that confuses new candidates).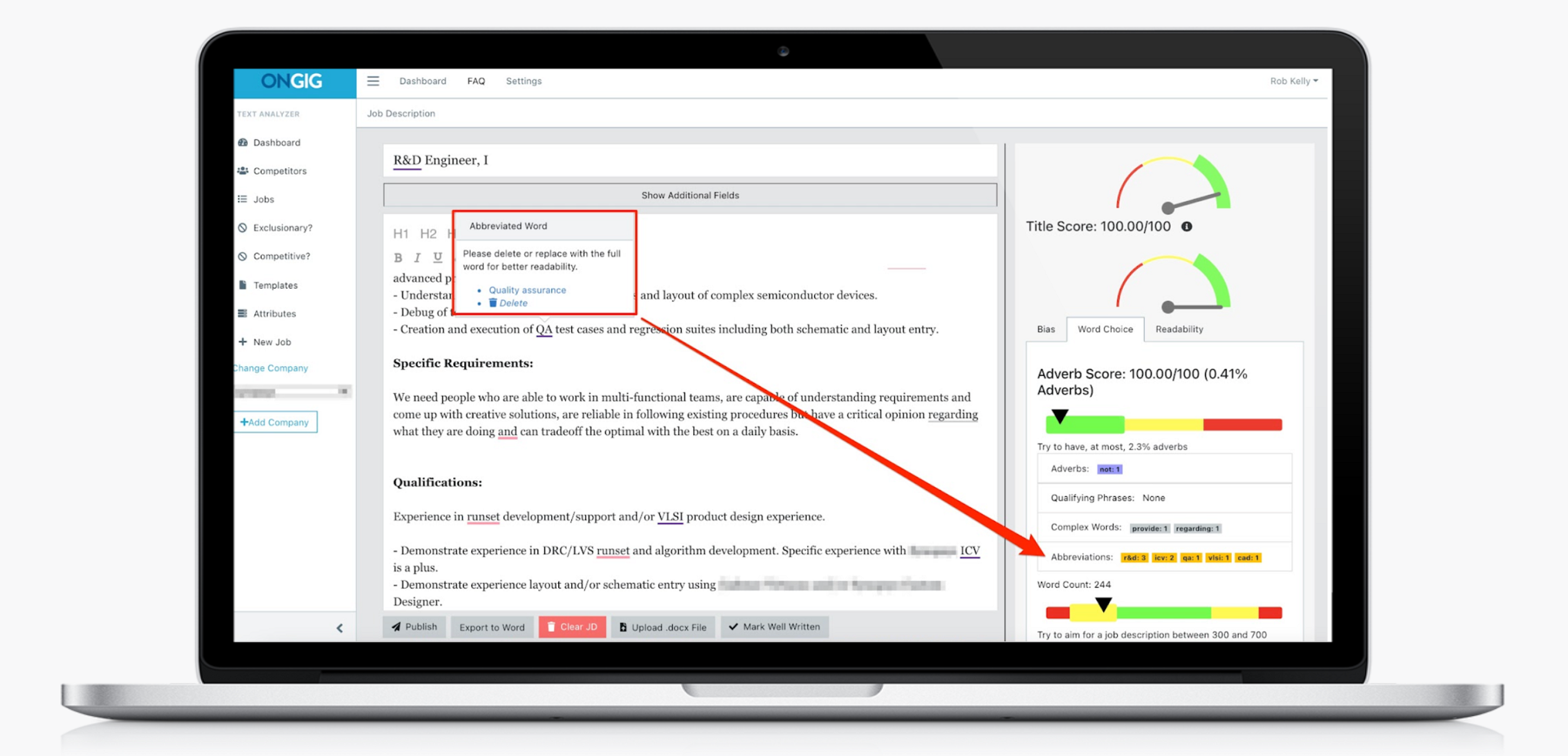 How does a 16-day hiring head start sound versus your competition?
Did you know that you can get a job from open req to approved in just 1 day? That's seven days faster than the industry average?4
Did you know that the fastest hirers fill their jobs sixteen days faster than the "average" hirer?5
Improving your time to hire starts with speeding up your job description writing process.
If you'd prefer to reach out to Ongig in some way other than clicking a demo request, one alternative is to email us at friends@ongig.com and we will do our best to accommodate meeting you another way.
6114 La Salle Avenue, #120
Oakland, CA 94611
(415) 857-2304
friends@ongig.com