Create stunning and effective
job descriptions
Ongig transforms your visuals AND text to attract top-tier talent and diversity
REQUEST DEMO
Don't let your biased and boring job descriptions tell your story.
Instantly add video, recruiting widgets and bias-free text to any job posting.
Eliminate unconscious bias AND own the best looking job ads in your industry.
And it plugs right into your applicant tracking system.
Ongig's Text Analyzer identifies where in your jobs gender bias is happening & eliminates it with a single click.
The more readable your job ads, the higher the apply rate. Fine tune word, sentence, paragraph length & more!
A single negative word in your job description could equal a negative candidate experience/ employer brand.
THE MOST EFFECTIVE JOB DESCRIPTION CONTENT
"Job seekers spend 5X the time on a video job ad versus text ad." -Entrepreneur Magazine
"Content that includes pics produce 650% higher engagement than text-only content." -Inc. Magazine
Live comments on job descriptions engage higher quality candidates.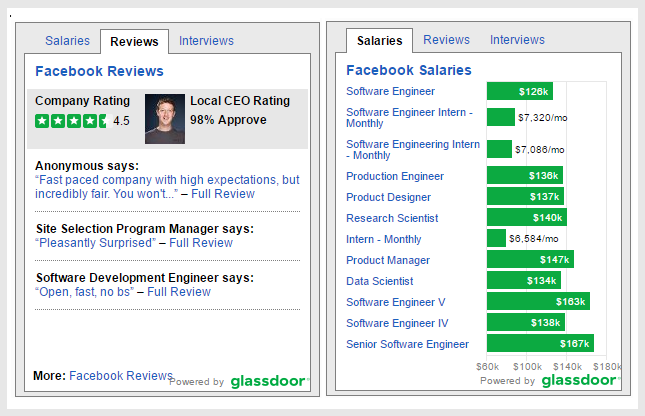 Save your candidates a step and keep them on your job page by providing Glassdoor content on your job descriptions.
Show candidates more relevant jobs on your job pages.
Easily show pictures of the outside view of any of your offices along with maps and directions.
Your complete header, footer, logo, font, and color scheme on every page!
One problem with most ATS's is that their name appears in your URLs. Ongig fixes that with a Candidate/Google-friendly "Vanity URL" with your name front and center.
Easily insert any award your company has won on any job page.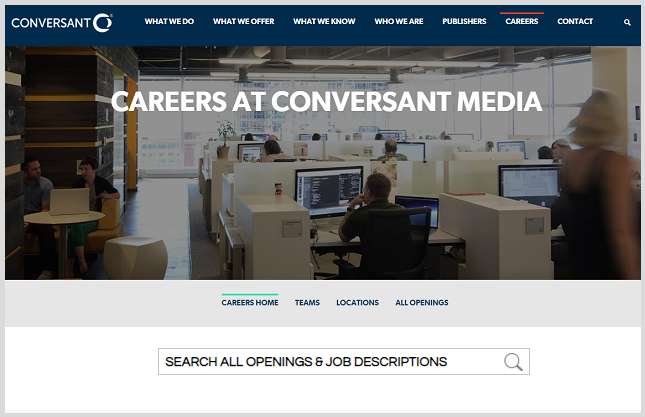 Most ATS job searches require exact matches in their searches. Ongig's artificial intelligence search leverages natural language processing to match candidates with the right job!
Dynamic microsite landing pages for every location & department.
CANDIDATE ENGAGEMENT
Own the highest candidate time-on-page whether they start from your career page, job boards, or search engines.
OPTIMIZED FOR THE MODERN WEB
Every one of your job pages will now be responsive-design passing 3 mobile tests.
"Clients have seen up to 42% increases in traffic from search engines while using Ongig."
Ongig-generated job descriptions have proven to be the most socially-shared in the world.
THE RECRUITING CONTENT MANAGEMENT SYSTEM
PULLS DATA FROM ATS
Ongig automatically fetches job reqs from you ATS. It's "Set and Forget" for your recruiters!
"DRAG & DROP" CONTENT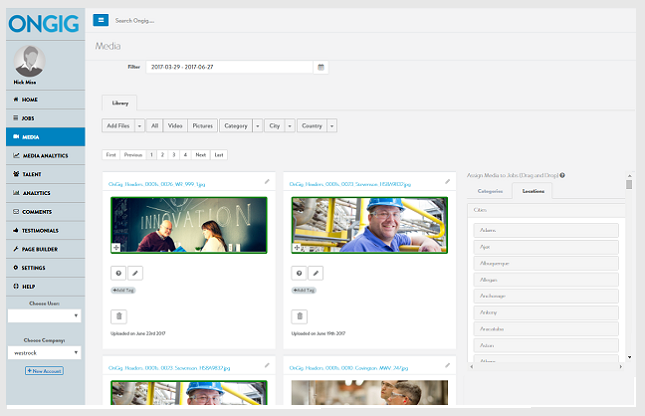 "Drag and Drop" any video, picture, testimonial, rating & review, map and other recruiting widgets to your job pages.
ANALYTICS & INSIGHTS
Easily track traffic source, engagement, apply rates, social & traffic.
SUPPORTS ALL MAJOR APPLICANT TRACKING SYSTEMS
GOOGLE TALENT CLOUD SOLUTION PARTNER
Provide a better search experience for job seekers and candidates.
Ensure your job openings show up on Google For Jobs.
Ongig integrates with Google's new ATS to give employers the best job descriptions and job pages.
Let Ongig's professional copywriters rewrite your JDs for you. Our writers leverage our proprietary software to give you compelling ad copy to attract the best and most diverse candidates.
Need a recruiting video fast? Our global team gives you professional voice-over, text overlay, background music -- all within 5 business days!
ATS MIGRATION, REBRANDING
Are you moving to a new ATS? Or maybe you have multiple brands & ATS's. Or you're doing a re-brand. We love solving ATS/branding puzzles for a unified candidate experience.
6114 La Salle Avenue, #120
Oakland, CA 94611
(415) 857-2304
friends@ongig.com